Church Management Software Benefits
Keep Your Visitors!

Make sure your visitors don't fall through the cracks with Assimilation and Follow Ups/ Ticklers features (Show me!)

Secure Your Check-In/ Check-Out (EZ Check-IN)!

Only those authorized to pick up the kids will be able to. Save time standing in line (Show me!)

Schedule Volunteers!

Know who is scheduled to volunteer in every ministry position on each ministry team and when to expect them (Show me!)

Create Picture Directories!

Print family pictures for your members in a booklet format automatically!

Track Attendance!

Record Attendance Totals or By Person per service, per small group, or per class/ seminar (Show me!)

Manage Gifts/Giving Units!

Keep gifts by fund and currency for each Giving Unit. Print giving statements, pledges, reports, etc.

Organize Pastoral Care!

Document each pastoral care event and schedule follow ups for further care. Secure confidential information while storing your notes electronically (Show me!)

Save Time!

Quickly access phone numbers or email addresses. View or print ready-to-use reports or labels. Press <F1> on any screen for help on that screen (download our brochure!)

The Works!

Know who's in each small group, who took what class, who has which spiritual gift. Maintain calendars, to-do lists, telephone messages, prayer requests, prospects, & much more.
People--they're your greatest assets. Manage them well.
SeekerWorks™ is a church-tested, pastor-approved software solution for tracking your members and attendees, assimilating visitors, supporting your volunteers, establishing church-wide and personal calendars, managing pledges and donations, generating receipts for your donors and more. Think of it as a Swiss Army knife for any church-related administrative task. Built on the versatile Visual FoxPro database platform, SeekerWorks™ can handle just about anything you'll throw at it. SeekerWorks™ will grow with you-- and isn't that the whole idea, growing and reaching spiritual seekers with the message of Christ. SeekerWorks™ frees you up to do what you do best: meet the needs of your ministries and support your hardworking staff and volunteers.
SeekerWorks™ - You'll wonder how you managed without it.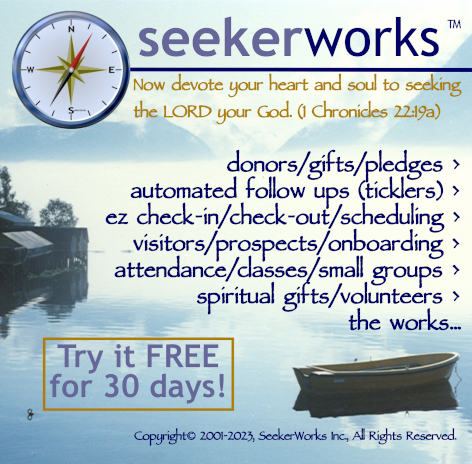 SeekerWorks™
$99 per computer!
($99 for the first year, $50 each year renewed)
-OR-
(a site license for $699 for the first year, $499 each year renewed)
SeekerWorksPLU$™
$149 per computer!
($149 for the first year, $149 each year renewed)